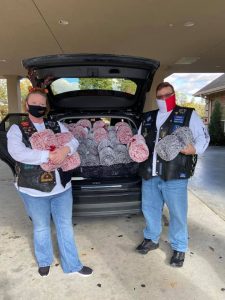 Blanket Donation
Proud of our Little Chapter. (Black Cat Ridge) We purchased enough Blankets for every Resident at the Nursing Home where Sister Mary's Mother called home before she passed. Was great to get to help out Our Elders.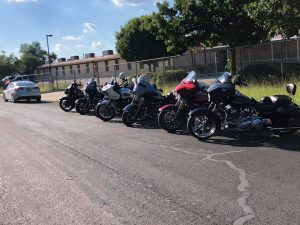 A Special Ride
Yesterday the Reguladores LEMC came together and road for a good cause. We had members from the National, Atascosa Heat, Graytown, and San Antonio Chapters ride for a Police Officer's wife who is terminally ill and their 11 year old son.
Thank You All who came out in the heat. The family told me they cannot say thank you to us enough for coming out. RFFR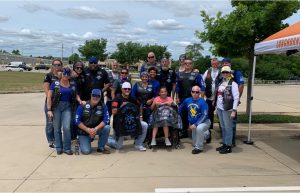 A special ride
Anita Marr & I had a great time today riding with the Lost Pines Chapter &
Clint Schumann at the Ride for Karlie. We put 316 miles on the Black Pearl and enjoyed every mile. Lost Pines did an awesome job for a GREAT cause. Way to go Lost Pines.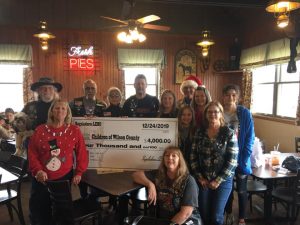 $4000 donation to the children of wilson county
The Graytown chapter donated $4000 to the Children of Wilson County. We would like to thank everyone for their support.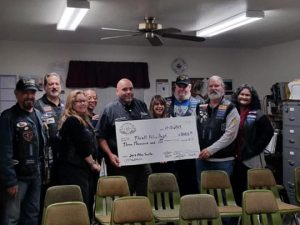 $3000 donation to the blue santa program
Caballo de Hierro (CDH) Reguladores had the privilege of presenting Chief Whitworth a check for $3000 last night at the City Council meeting. Our Bowling for the Badges fundraiser was a resounding success for his Blue Santa program! Additionally, the National Chapter donated $300 as well! Thank you to Boss Man and the National Chapter, those from other chapters that attended, friends that supported us, and especially to the members and their family and friends of CDH.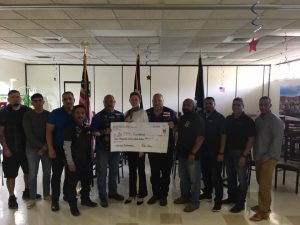 $1500 donation to texas state college
RGV Reguladores donating to Texas State Technical College for Veterans Scholarships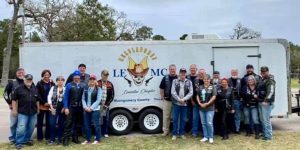 Hurricane relief
Reguladores LEMC helping out in Louisiana with much needed supplies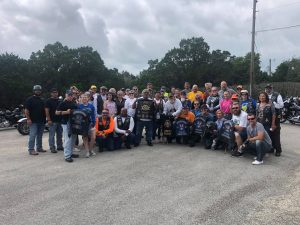 a special ride
BIG THANKS to all the Reguladores who came out today. We gave this young girl a day she will never forget. Her parents were very grateful for us being there for their daughter. 36 bikes & two slingshots pulling into Six Flags was one hell of a sight.
Reguladores LEMC Chapters present: National, Corpus Christi, Atascosa Heat, Graytown, San Antonio, Chisholm Trail & Bastrop. Along with Cowboy Harley Hog Chapter & Iron Circle LEMC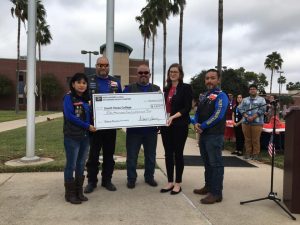 $1500 donation to veterans at south texas college
RGV Reguladores donating to Veterans at South Texas College.
Thank you for making this possible.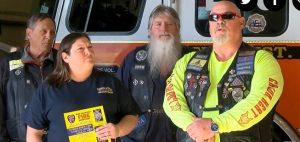 Mire volunteer fd to host annual fundraiser
Richard Waldorn, President of Reguladores LEMC Cajun Heat, said, "We put out a lot of our time to give back to the community, and we do this so the community can come back and help us help them."
Sunshine kids
Had a great turn out. Kids loved the ride & the Reguladores LEMC USA shirts & bandannas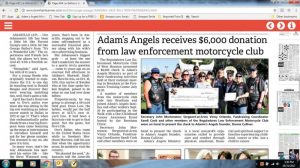 Adam's angels receives $6000 donation
West Houston chapter presented Adam's Angels with a $6000 check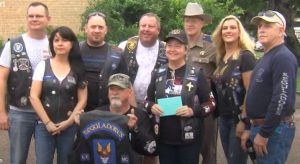 Benefit for hidalgo county state trooper
Corpus Christi chapter showed support for a Hidalgo County State Trooper who was shot in the head.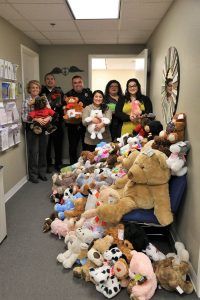 Frosty fingers ride
We want to thank the Corpus Christi chapter along with over 250 motorcyclists who participated in the 2019 Frosty Fingers Ride. They were able to collect this pile of cuteness that you see pictured with our Police Officers and Victim Assistance Staff.
Donations of these stuffed animals will be distributed to our police officers so that they can be given to children facing traumatic and scary situations. Sometimes a stuffed animal can go a long way to comfort a child.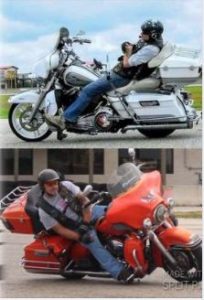 Longest no hands motorcycle ride
Guinness Book of World Record holders for non-stop motorcycle ride with no hands goes to Shelton "Big Red Machine" Foster and Mike "Brick" Wall